PGA Championship Final Update
Bets, DK Own, Weather & Giveaways
Bye, Bye Bryson
He tried to give it a go, but Bryson has decided to join the ranks of Phil, Sungjae, Casey, and English and take a pass on the year's seconf Major.
No idea if Denny is going to be added to the DK Player Pool or even the betting boards at this point.
Also, Hideki may or may not be hurt. Not sure what to make of this, but I'm on a full Hideki fade anyway. Do with it what you like…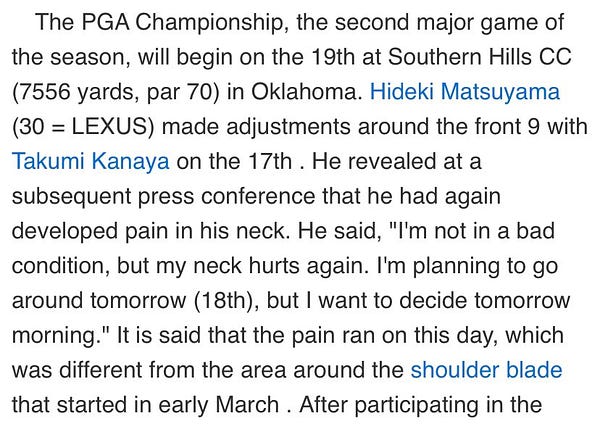 TRACKING HIDEKI
@TrackingHideki
🚨🚑 Hate to bring bad news, but hearing Hideki's having more neck problems this week 😢 Apparently it's unrelated to his previous injury so hopefully it's nothing too bad, but I guess we'll see.
Have some $$$
I'll be sending a selective few of you $100 in COLD HARD (digital) CASH if you…
Sub to this newsletter…
And leave a 5-Star review for The PME Podcast on Apple or Spotify.
And that's it. You can share this and the other shows around too if you like. That'd help. Winner announced on Monday's Show with Fienberg. Hopefully we'll all be a little richer at that point.
Let's juice those numbers
Oh, and the DK Listeners' Legaue is 6000 spots this week. That's $90K of RAKE FREE money. So, please, let's fill this. It's 93% full as of this writing. The absense of our Ontario friends, who had DFS taken away from them this week, is noticable.
Also, if you're lucky enough to be in one of the right states, I'll give you $$$ to play on an upstart DFS site. Email thepatmayoexperience@gmail.com to see if you're in one of thsoe states. And want free $$$. Gotta have pay pal tho so I can it to ya. Cheers
WEATHER
Things are shaping up towards a AM/PM wave split based on the weather this week. 
Tambo and I discussed this on today's shows, and the different strategies, but I think he summed it pretty well here…

Persionally, I played 80 lineups thie week: 40 mixed, 25 AM/PM & 15 PM/AM.
All the tee times are loaded next to the players' names on Fantasy National to make life easier on you.
But in case you just wanna take a gander, here are the times for the field
AM/PM
PM/AM
BETTING CARD
While it may seem like I played both sides with my betting card, and I did, it was completely unintentional. I knew who I wanted to roll with all week, and stuck to it. VIK and Will Z are on the perceived good side of the draw, while Morikawa and DJ are the on the other. I'm glad waiting it out on them paid off for once, as I ended up getting at least 5 extra points on each. Some of which, I'm sure was influenced by the weather draw.
I've been over Morikawa, DJ, and Zalatoris already, and while I've talked about VIK, I've decided to lean in on a theory, which may prove to be completely wrong. The narrative is that BIG DICK VIK doesn't have enough short game to even sniff the Wanamaker. Stats would say that's true. Believe me, I understand that. However, all the chatter has been centered around how different these green complexes are. And while Around The Green will be important, it may be difficult for even the top short game players. It's not getting harder for VIK, he's already the nut low. We talk about small greens and fast surfaces potentially mitigating the impact of poor putting, what if the same is true about difficult around the green courses? Anyway, that's how I've talked myself into it. That, and if VIK is peak VIK, he should have to take fewer around the green strokes has he'll be hitting a ton of greens versus the field. No one is hitting 80%+ this week, but if he can be 20% better than the field, that also masks the chipping. AND, if he isn't hitting greens at that short of clip, he wasn't going to win anyway. 
I was looking for one more add between Lowry (35), Niemann (55), Finau (66) and Hatton (90), but just didn't feel strongly enough either way. I think Niemann is my fac of the bunch, but I'll save those bullets for a LIVE ADD or two after the cut.
As mentioned on Monday, the BOMBS category is merely for the better odds on the Top 8 part of the each way versus the Top 10, with the added bonus of having the outright along with it. Less money for a larger payout.
MOST ANDERCURSED
Scheffler

Burns

Louis
MOST REVERSECURSED
Morikawa

Zalatoris

Finau
PGA CHAMPIONSHIP CONTENT
Cut Sweat LIVE (Friday)
Bonus Content
Secret Show: (DK Strategy w/ Tambo & Rasa)
Here's the Run Down for the Player Profile show with Rick
The Tidbits
I know Twitter threads are the new thing to mock these days. I'm not immune. But Tambo's weekly thread on golf info is actually quite actionable and I really dig it. He aggregates the best of content from around the web and puts it all in one place.
GALAXY BRAIN: "A very particular set of skills"
Liam Neeson may or may not have been talking about picking golf winners. We cannot confirm nor deny the deeper meaning of his famous line in Taken, but it's possible he was leaving us breadcrumbs. We've seen four different players win the PGA Championship over the past five seasons (Mickelson, Morikawa, Koepka twice and Thomas), so I decided to take a look at the long-term skills of those players. In the now five-plus seasons (so, since the beginning of the 2017 season), all four of those players rank as top-40 players in short Par 4 scoring and top-25 in birdies gained. Now, it's important to note that the 2022 PGA Championship has no "short" Par 4's, but the skill set that goes into doing well in those spots has translated to cashed outright tickets/winning DFS lineups. Understanding that, I used FantasyNational to get the ranks (past 36 rounds) for everyone in this field in those two specific areas and created a list of the top players when looking at only those two metrics. Here is that top-10:
1.       Cam Smith - $9700
2.       Scottie Scheffler - $11400
3.       Jon Rahm - $11200
4.       Justin Thomas - $10700
5.       Xander Schauffele - $9300
6.       Rory McIlroy - $10000
7.       Mackenzie Hughes - $6600
8.       Patrick Cantlay - $9100
9.       Chad Ramey - $6400
10.   Joaquin Niemann - $8500
Some of the same names that we've seen all week in these newsletters (Smith, Xander and Cantlay seem to pop every time I send one of these out), but a few make their first appearance on this the last day of research. Here's an option if you're buying this skill set as one you want a piece of this week:
DRAFTKINGS Ownership
I'm really not sure how impactful the weather split will actually be on DraftKings ownership, but let's guess it's a little. Overall, like most Majors, there's not going to be any one player so wondered that they're an auto fade. The pricing is flat enough to distribute the ownership pretty evenly at the top. So here are the guesses for most owned
Hideki Matsuyama

Patrick Cantlay

Jordan Spieth

Justin Thomas

Rory McIlroy

Scottie Scheffler

Matt Fitzpatrick

Xander Schauffele

Cameron Young

Shane Lowry
Go get some $$$
— PM