NFL Draft & Valspar Info
CUSTYS and More too
MOCK DRAFT (
with
J
. 
Reinhold)
Here's a chance to do what I do. Don't ever pay attention to College Football then, last second, call up two people who know everything about College Football, and get them to tell you all about it. Those People were Ray Garvin & Tyor Nystorm this year. If you care about the Draft, they're the people to follow this week. They'll tell you so much, you can come across as the expert when you're talking to your pals who don't know anyone outside the QBs and a few of the WRs. The embedded vid is the first 10 picks but you can find Picks 11-32 in its own video or together as one show on the PME Audio Podcast Feed.
Or, if you only give a shit about who went where. Here's a list:
Jacksonville — Trevor Lawrence

New York Jets — Zach Wilson

San Francisco — Mac Jones

Atlanta — Kyle Pitts

Cincinnati — Penei Sewell

Miami — Ja'Marr Chase

Detroit TRADE TO DENVER — Justin Fields

Carolina — Rashawn Slater

Denver TRADE TO DETROIT — DeVonta Smith

Dallas — Patrick Surtain II

New York Giants — Jaycee Horn

Philadelphia — Jaylen Waddle

LA Chargers TRADE TO CHICAGO — Trey Lance

Minnesota — Christian Darrisaw

New England — Micah Parsons

Arizona — Greg Newsome

Las Vegas — Jeremiah Owusu-Koramoah

Miami — Jaelan Phillips

Washington — Rashod Bateman

Chicago TRADE TO LA CHARGERS — Alijah Vera-Tucker

Indianapolis — Teven Jenkins

Tennessee — Kwity Paye

New York Jets — Caleb Farley

Pittsburgh — Najee Harris

Jacksonville — Trevon Moehrig

Cleveland — Christian Barmore

Baltimore — Azeez Ojulari

New Orleans — Terrace Marshall Jr.

Green Bay — Elijah Moore

Buffalo — Asante Samuel Jr.

Baltimore — Jayson Oweh

Tampa Bay — Javonte Williams
REMEMBER: It's a Mock Draft. Not the real draft. Based on the anger I've received over this already it would appear many think these were the results from Thursday's NFL Draft, as, like many know, I am a future person. A future person who uses this ability for NFL Mock Drafts and not to win any bets. Just because I'm from the furure doesn't mean I'm smart.
Speaking of smart. On the NFL Draft Prop Bets Show (Eliot Crist was on too and actually rattled off some legit props. Jaycee Horn is already down to +350!) show Cust claimed he was going to release a Mock of his own, and that he assumed he'd get close to 32 correct, as that's the norm for people who do this. Geoff, Paul, and I (and I'm guessing anyone who watched) got a big laugh from it. Turns out, Getting all 32 mock draft picks is tough when you can't name 32 players in the draft.
It was much better when he had Fields going 3rd, then the Patriots trading up to No. 7 to draft Fields again. A real shame he deleted and reposted. Also, after claiming Pick No. 11 was the real second best pick of the draft, he left it out.
He deserves to be shamed for this. Luckily, that won't be an issue. The 4th annual Custy Awards is next Monday. Here's a sneak peek…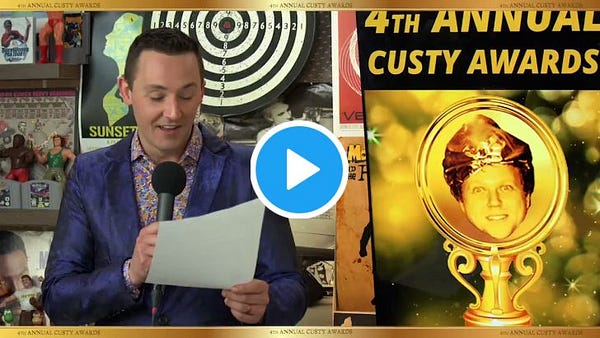 Watch or listen to old Custys and jog your memory on past transgressions or just binge some Cust Corners for the hell of it on the Cust Corner Only Feeds:
Videos: Link is tooooooo big so click here
Apple: https://apple.co/2YulN8c
Stitcher: http://bit.ly/CCStitcherPod
Spotify: https://spoti.fi/32jEMmR
Radio Public: http://bit.ly/CCRadioPubPod
We also go over Fienberg's biggest rivals. Spoiler: he claims he likes all of them, then talks for 5 minutes about why they're horrible. Its great.
If you've never seen a Custys show, it's widely known as the best show I release all year. Not a high bar, granted, but we always have big laughs on this one.
Oh, Eliot has some free bets up at FTNBets.com. If you want ALLLLLL the bets, because you want to go full degen mode on Thursday, use code "MAYO" and get yourself a discount off the paywall bets. I'm so envious of those guys. Because they actually win they can charge for bets. When you suck, like me, your content has to be free!
VALSPAR!!!!!
If you're a huge fan of losing money, DO I HAVE A SHOW FOR YOU
This is actually the last time Geoff and I will be recording a new show together in-studio for quite some time. My wife, the boys, and I are prepping for a cross (half) country move this week to be closer to both our families, and turns out, buying a house the size we wanted in Downtown Toronto was going to be around$2.5-$3M. Seriously. Hence the move. After a few weeks, Geoff and I will be up to speed on rapport via the web, so doesn't worry about that quality of the show. It's really the tech aspect that worries me.
Example A
But we'll see how it goes when we get there.
More Valspar I'm already in on Hatton (WD Now), Im, Kokrak and Woodland. I missed the good Rose number during the show and now it's been beat down to +3500 from +5000. So I passed. And I took Guido +3500 and Veerman +6000 over on EURO. I'll have the full cheatsheet in tomorrow's newsletter btw when I finalize the picks.
Hatton pulled out after a positive COVID test, so I ended up moving on to Scheffler at 30/1.
VALSPAR RESEARCH WALK THROUGH
VALSPAR WRITE UP
I ran through the field and stats in the walk through but completely spaced on the model breakdown. And people let me know. My model on Fantasy National are important to many people. Without them, they wouldn't know exactly what not to do when building theirs.
You can build your own very easily at Fantasy National. And here's 20% off. Here's what I landed on.
Before we look at the rolling results, here are the Top 20 players over the past 50 rounds in fairways gained. This won't mean everything, as a lot of the elite players and big drivers are going to club down and improve their accuracy, but I've found this as been a good way to identify some sleepers at Copperhead before.
Again, I suggest tweaking you stats to fit what you want find, but here are the Top 20 players in mine over the past 12 Rounds, and you can get a sense of if they're trending up or down in the "Rolling Report". You can access the "Rolling Report" for any stat on the "Sample Size" white bar on the left hand side of the page.
No surprises here, especially since Zurich, The Masters and Match Play have no strokes gained data thus aren't included.
If we take a longer term view of the past 100 rounds, we get…
Conners, Henley, NeSmith, Ancer, and Hoge never fall outside the Top 20 in any time frame. That makes sense since I haven't bet any of those guys.
PGA SPLITS continues to bring the heat on Twitter. Follow that dude. This list really jumped out to me with so many of the guys having the best historic results at this event.
Maybe I'll get back Palmer after all. I'm talking with Rasa on the DK show Tuesday. Hopefully he has answers beyond Grillo.
You Ready for the SKYFECTA????? Skylar Hoke and Tom Jacobs are going for three straight winners on the EURO TOUR, and GOOD NEWS, the show is already out.
Here are the audio pods if you hate YouTube
Apple: http://bit.ly/DFSMixApple
Stitcher: http://bit.ly/DFSStitcher
Spotify: http://bit.ly/DFSSpotify
Google: http://bit.ly/DFSGoogle
OTHER THINGS
Garion Thorne is not only in-studio for the CUSTYS, he made today's MLB DraftKings Picks and Bets
Do us a solid at Mayo Media and give Prize Picks a try too. They'll match your deposit up to $100 if you use code "MMNMLB" at sign up. The Golf slate should be up later Tuesday, but for now, there are Garion's plays for Tuesday.
It's just Prop over/unders in Fantasy form so it's legal in way more states.
Hockey's not over either. DJ and Moods have the Tuesday plays in the NHL
As mentioned, I'll be back Tuesday afternoon with Rasa for Valspar DK picks, then Tomorrow with Rasa and CAMMMMMMM for Kentucky Derby Picks.
Cody & Paul will have more UFC Bets this week too. Maybe even a night early.
— PM
___