Mexico Open Bets, DK Ownership
+ NFL Draft/Cust Corner Advanced Screening
Mexico Open
NOTE: I'm on vacation starting next week. I'll still have a shows every day, and they're pretty good. I know because they're already done. But it's doubtful I'll send out a newsletter. If I bet at all, I'll prob just tweet it out. Custys May 9 btw.
This may not be shocking if you've seen anything about the course this week, but I'm targeting bombers with my long shots. Is that the proper strategy? On paper it looks that way. In reality, who knows? Certainly not us, having never seen PGA players tee off at this course. Let's hope we're right. In the DraftKings market, there's a lot of low ownership (more on that later) value on the shorter hitters this week.
Gary Woodland — Woodland's the only player the in the field who rates out better than the Rahm over the past 24 rounds when you combine driving distance and approach play. Following Berger's WD, Woodland odds didn't cut enough to make him unbetable, so let's roll with him. 
The Woodland/Finau bet is at Bodog/Bovada btw
Martin Trainer — Let's pretend this is hearts and try and SHOOT THE MOON!!!! Trainer has not been good. There are a few skills he possess however, which makes him live this week. It's mashes it off the tee, and has been one of the better putters in 2022. This was the same formula he used to win in Puerto Rico a few years back, and all signs point to this being a similar style course. Bet it; pray for luck. 
Wyndham Clark — The biggest comp course, I think, is Coco Beach for the Puerto Rico Open: Similar length, lack of rough, same grass type. Clark is one of a handful of players in the field gaining over 2.0 strokes per round (total) at Coco Beach, albeit in a small sample. He actually has a T10 and T22 in his who alternate field events over the past three years. He rates out second in the field in driving distance over the past 24 rounds and enters play in solid form after an early season lull. Starting with a T22 at Corales, Clark has gone T71/T35 before a T10 in the team event last week 
FADE Abraham Ancer — He's missed myriad cuts in a row, and even threw some WDs into the mix along with it. It really feels like he's here out of obligation to represent Mexico in its national open. Which is commendable. But not betable, to me. The injured guys have telegraphed poor performance over the last month or so and I'll keep rolling with that. Now I'll sit back and watch Ancer burn me.
2022 MEXICO OPEN CONTENT HUB
NFL DRAFT
As I always mention, I don't know shit about college football. Some contend, many in fact, say this leads to the some of the bets PME episodes as I try to find the best possible guests and let them cook. And that's what did for the preview shows. The Mock Draft in particular was awesome. I should know, I sat back and listened to it in real time as Ray and Thor filled in every gap.
Now, if serious guests aren't your jam, do I have a show for you. Me, Cust, Garion, and Geoff congregated for 3 hours Monday afternoon and recorded the CUSTY AWARDS (Out May 9), then decided to stick around another 50 minutes to talk about the draft and provide a NEW Cust Corner mini. It will be available on ALL FEEDS 430am ET Thursday morning. But since you're such great people for subbing to this newsletter, here's early assess to the video.
TAMBO'S TIDBITS
Reminder to check out this week's FGD Show on MMN. KENNY IS BACKKKKKKKKK!!!!!!!!!!
GOLF PROPS!!!!!!!
In an impromptu segment on the live chat, spurred by a GOOD QUESTION, Tambo and I made a 3-Play Prize Pick golf play for Thursday. Under the assumption this course is going to play pretty easy. Oh, use code "MMN" at Prize Picks to get a deposit match up to $100. Use the bonus $100 and turn it into $500…
THENNNNNNN you can parlay those winnings (or use the $100 left over in case Na let's us down) and dominate USFL.
I'm not joking when I say USFL has been a print fest because of Run The Sims. And you know me, if I'm winning consistently, there's money to be won. USFL has been my best ROI of any league ever through two weeks… and I legit have watched two minutes of action.
There's also the player prop sim tool which is demoloishing Prize Picks so far. Maybe they'll adjust, but if not, just stand at the back of the train and catch the bags of money.
Here's how it went last week…

BHAM/HOU USFL
@PrizePicks
. Starts at 7pm ET The
@RunTheSims
prop simulations give these two a very strong chance at coming through. USE Run The Sims
runthesims.com/mayo
Get up to $100 Deposit match at PP
bit.ly/PrizePicksMMN

Hopefully today's USFL
@PrizePicks
are as sweat free as yesterday's. Using
@RunTheSims
prop projections, I've put together a 2 and 4 play for the firts game at 1pm ET. USE Run The Sims
runthesims.com/mayo
Up to $100 Deposit match at PP
bit.ly/PrizePicksMMN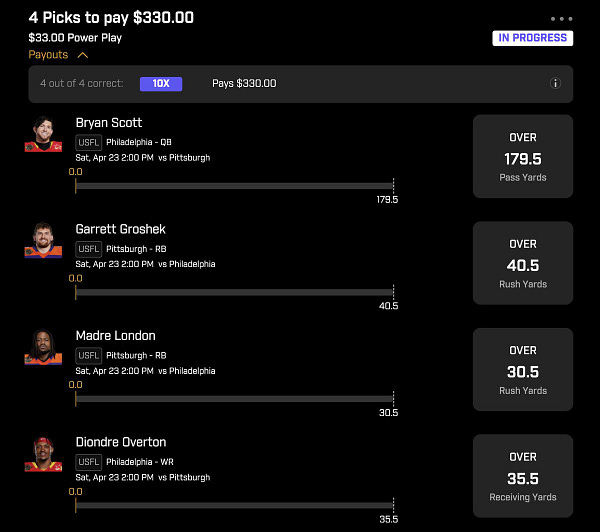 Pat Mayo @ThePME
💰💰💰 Blindly following the @RunTheSims already paid for the sub two fold. https://t.co/HNsZQevTy7 for 10% OFF the opto and projections https://t.co/e8SSYObQxz
GALAXY BRAIN: What Does Fading Rahm Look Like?
John and I went through the primary decision this week during Tuesday preview:do you go over or underweight on Jon Rahm? We are both leaning toward overweight and it's a reasonably straight forward train of thought … the strength of this field was awfully limited before Berger withdrew and now you could argue that the gap between Rahm and your next favor golfer (be it Finau or Ancer or someone else) is wider than the gap between that number two option and the fringe top 20 guys in this field. It's not pretty, so why not pony up for Rahm? What's his reasonable floor projection? Obviously anyone can miss the cut at any event, but if we are talking the average projectable outcome, how sideways can it really go? A fringe top-10 finish? If he does that and you nail your sleeper picks, you're good. Check out that preview show if you want how we are filling out the bottom of Rahm oriented lineups.
While I'm not willing to project a bust week from Rahm, there is no denying the game theory component in fading him. Listen, no matter the field, it's still the sport of golf, one where players are more likely to underachieve than win. Nothing in Rahm's profile suggests that he's a bad play, but if (when) rostership gets out of control, it would be wise to have alternate outs. So how does one go about constructing such a lineup? I'm glad you asked.
The scorecard yardage for this par 71 course is a bit deceiving. Yes, 7,456 yards is a lot to deal with, but just under 32% of those yards come on the four Par 5's (three of which check in well over 575 yards). That does two things for me: increases the importance on those long par 5's (obviously) and has me targeting players with strong GIR numbers (less obvious). Why GIR? Let's ignore the par 5's … this is basically an average length course with forgiving fairways, something that tells me that everyone is going to have good looks at the green on the par 4's. Trying to forecast putting is next to impossible, but iron play is a bit more sticky, so I'm happy to back the guys that are putting that second shot on the green and taking my chances with the flat stick. There are nine guys in the field that rank top-25 in both of those metrics:
You know I'm on the right track because Rahm dominates this study. But we are fading him for game theory, so how can we use this player pool to create a DK GPP lineup? You get creative.
With Rahm likely to generate insane rostership, it stands to reason the other "top" options aren't going to be all that popular. So load up! That's right … I'm taking three of the top-6 golfers not named Rahm. I'm letting the chart above do most of the driving after that. Bramlett and Van Pelt profile as viable options given what I view as important and while Hoag didn't make that exact list, he's top-35 in both GIR and Long Par 5 scoring. Good enough! It's true that the man misses tons of cuts, but he does have three top-20 finishes since June and that's not nothing. If you're fading Rahm, you're chasing upside without regard for downside, so why not? If you're out on Rahm based on principle, here ya go:
DraftKings Ownership
Get updates on ownership in real time at Fantasy National!
Rahm

Woodland

Wise

Jones

Kirk

Finau

Tringale

Pan (Pam?)
Oh, if you want some FREE MONEY to play on a site (as we've done in the past), email me at thepatmayoexperience@gmail.com. If you're in a state which has it, I got you!
Good Luck
— PM